UPDATE: Dave's Remains Found
Not photography related, but a very good friend of mine and former teammate (Team Mandrin) has gone missing. Please spread the word and send good thoughts for his safe return: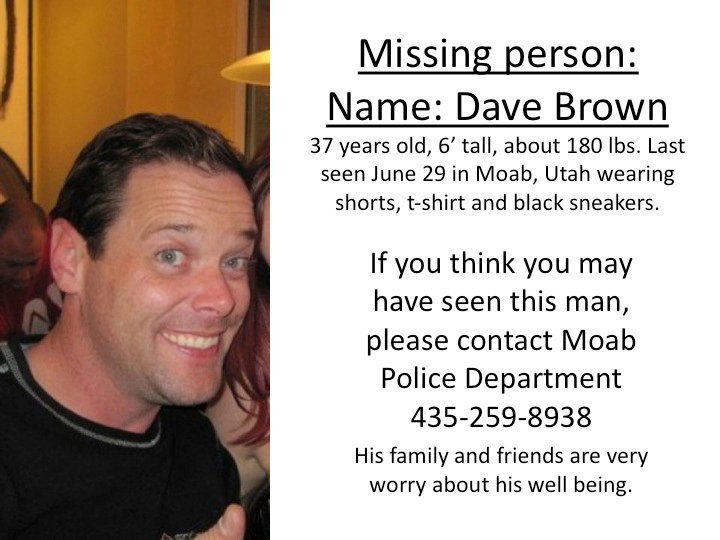 Please check out the following press release. If you have any information, contact the entities mentioned below and please do help spread the word. To see more pictures of Dave & his skydiving team please click here.


David (Dave) Roy Brown was last seen at 2PM Wednesday June 29th in Moab, Utah. A missing persons report has been filed with the Moab Police Department. Dave can be described as a fun and energetic 37 year-old approximately 6'0 tall, 180 pounds with green eyes and dark brown hair. Dave has four tattoos: a black bat on his left shoulder, and a hummingbird, an alien head, and a moustache on his back.

Dave is a popular member of the skydiving community and well-loved by all who know him. Dave's friends and family are asking everyone to report any information related to the disappearance of our close friend, brother and son.
Dave was last seen in the vicinity of Skydive Moab, a common Utah destination for outdoor adventurists. Moab itself is a small community with a population of about 10,000 people. Those closest to Dave around the time he was last seen are confused as to why such a talented, well-liked extreme athlete would be missing. All of his personal credentials (driver's license, Canadian passport, US Green Card, credit card, etc.), clothing and belongings, and cash were left behind at his place of residence. Friends and family are very concerned and asking for everyone to be on the lookout.
A local police report has been filed, however, an incredible unofficial search and rescue effort is being launched. Although informal compared to State run operations, this rescue effort is being collaborated and largely driven initially by the incredible connectivity of Facebook. Dave's roots and family are based in Atlantic Canada yet his friends from all over the United States, as far as California and Hawaii, are communicating in an attempt to find Dave safely. Introductions are being made quickly and all involved are sharing information, resources and ideas on how to best proceed with search and rescue efforts. All informal search and rescue efforts are being coordinated with the Moab Police Department.
Time is of the essence and all help is appreciated. If you have any information on the whereabouts of Dave Brown, please contact the Moab Police Department (435-259-8938). To learn how to contribute to the Facebook-led efforts of coordinating search and rescue efforts on the ground in Moab contact Wendi TeKamp (Dave's Sister) at 902-444-5430 or mzwendi@gmail.com. All information is greatly appreciated from the friends and family of Dave!