To begin a 6 month trip out of the USA I started by connecting through Taipei. My mentality is that if I have to connect through a country I want at least a few days to see it. After the 14 hour flight, I found my way to the express buses that leave for downtown and immediately met a woman who also just got in from LA. She was from Taiwan and lived in Atlanta and just wanted to help out a foreigner so they got a better feel for her country. Very nice indeed. She pointed me in the right direction and gave me some tips for the city. This is not a bad way to start off a trip, arriving in a far off land that I really don't know much about and being befriended before I even left the airport with a friendly smile and some local guidance. Why doesn't the rest of the world work like this……
Once in town, if you leave the Main Station in Taipei, Taiwan and head due south, you'll be standing on a street corner wondering if the Taiwanese rail had transported you across the globe to NYC. Looking across the street and turning left to right you'll see, without taking a step, a McDonalds, a Dunkin Donuts, 2 Starbucks, a Cold Stone Creamery and 4…..count em….4 – 7 Elevens……oh yeah….and a couple of Taiwanese shops as well. Taiwan is NOT China. The people are friendlier, the city is much easier to get around, and not everyone is trying to rip you off. However, the entire time I was in Taiwan it was either cloudy or raining. I did go up in the Taipei 101 and managed to catch a glimpse of the ground blaze by as holes in the clouds presented themselves. Oh well….I had to try! I also fell victim to the obligatory ice cream cone at the top of the world tallest building. Of course it was sold at a MövenPicken stand….how perfect.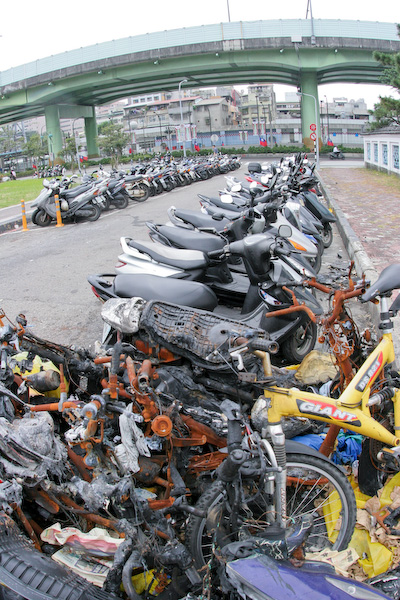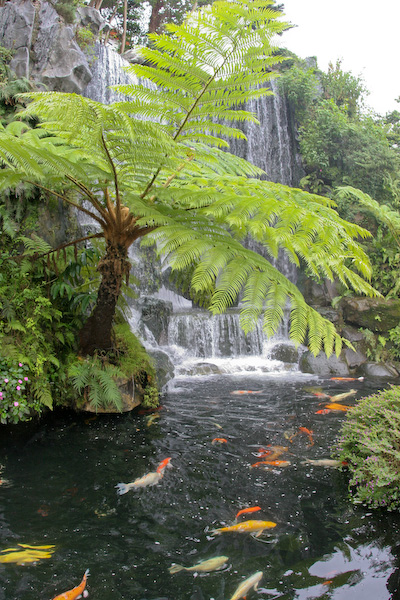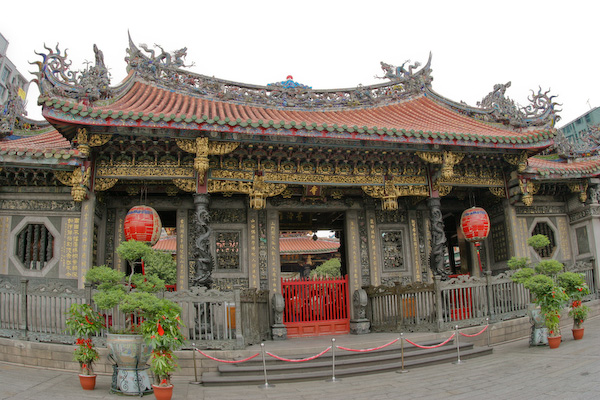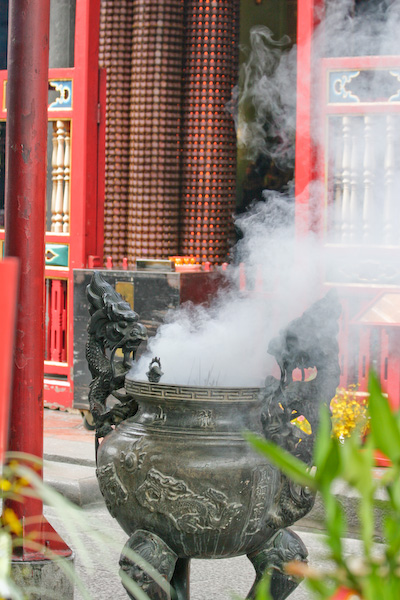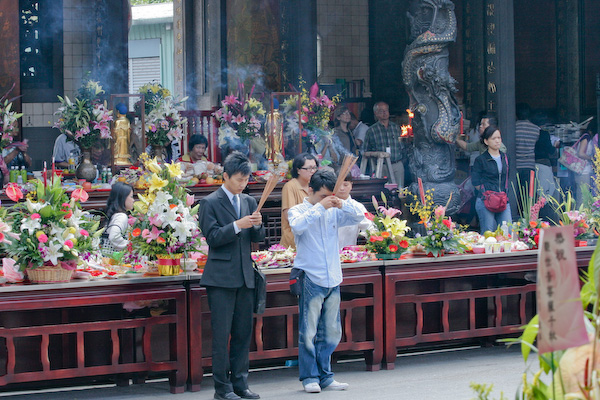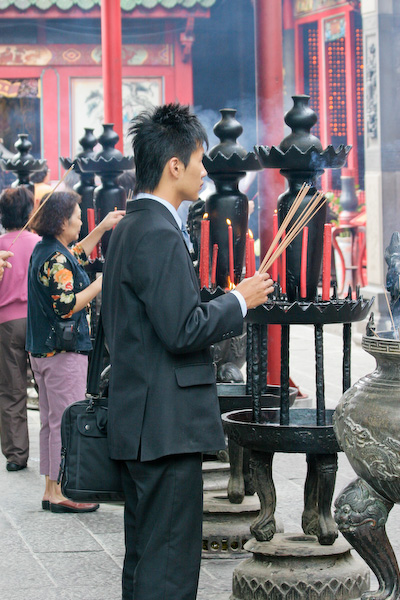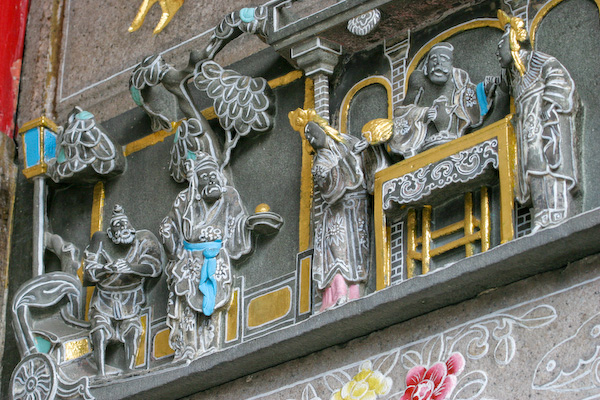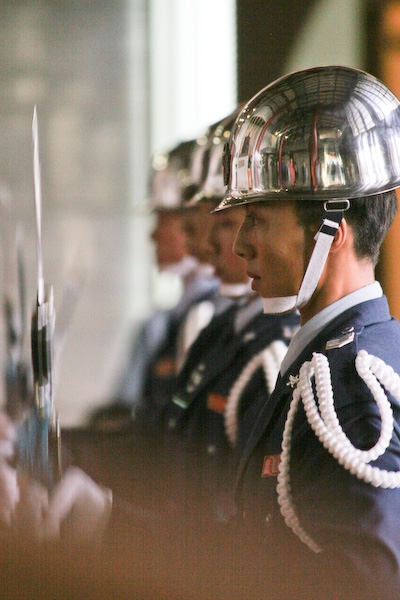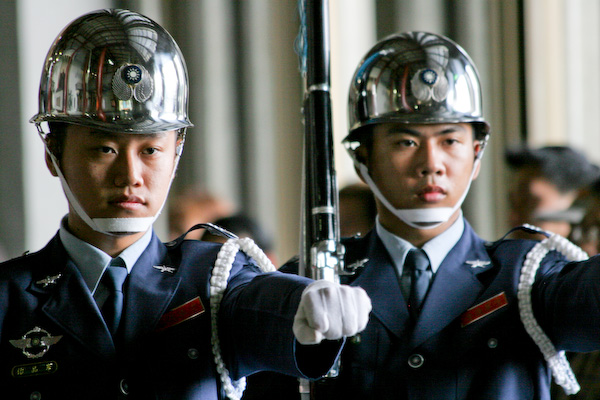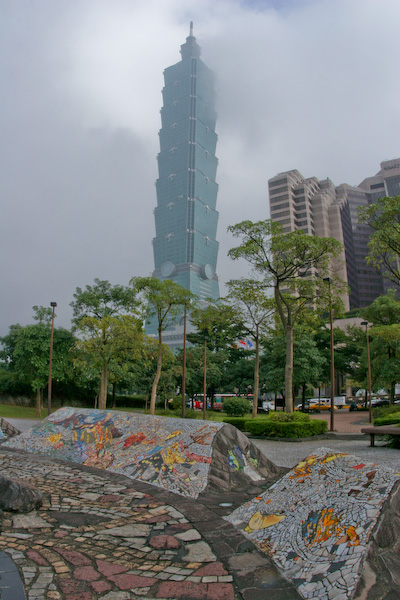 After leaving Taiwan I made my way to Hanoi, Vietnam. I have never seen so many bouquets of flowers before in my life. Actually I have, but it usually involved someone's demise. This time however I had just cleared customs at Hanoi's International Airport. Throngs of people jammed the exit way eagerly anticipating a loved one's return home. I haven't seen so much genuine love and happiness while waiting for my driver to find his other fare than I did that day. Passenger after passenger cleared customs and made their way to the gauntlet of loved ones waiting to jam a huge bouquet of flowers into their hands and simultaneously envelop them in a massive group hug. This went on for 15 minutes as I waited and it didn't relent when I left. As I was walking next to the driver out to the car, I turned to him and asked, "So where are my flowers?" He looked at me a little confused and I told him to never mind….I don't think he got it……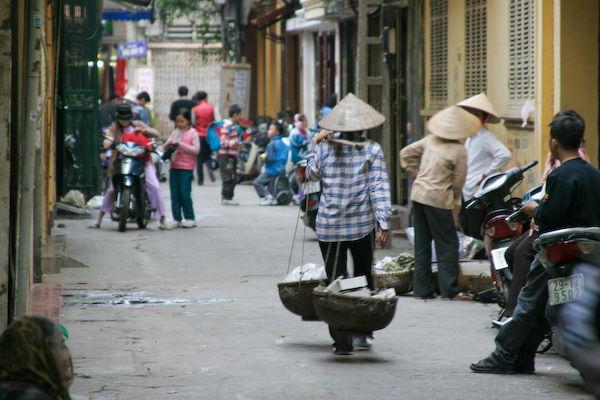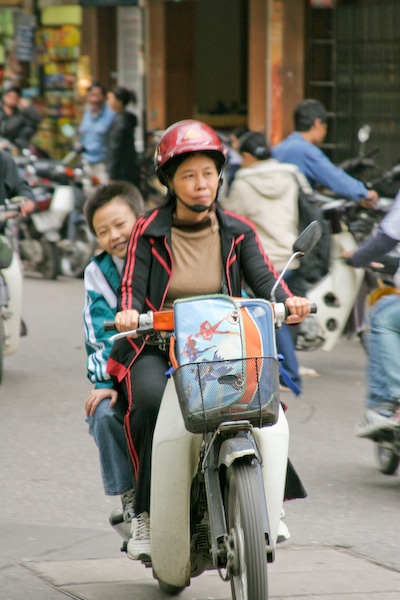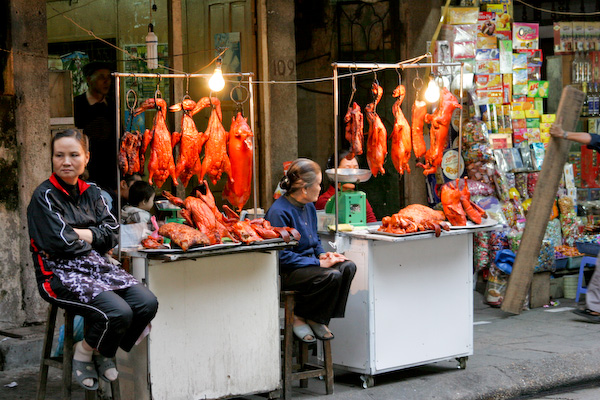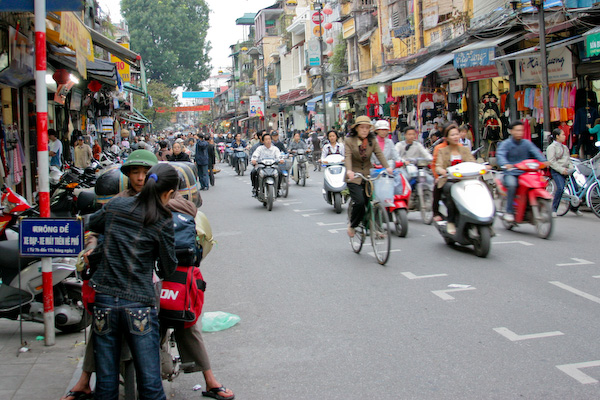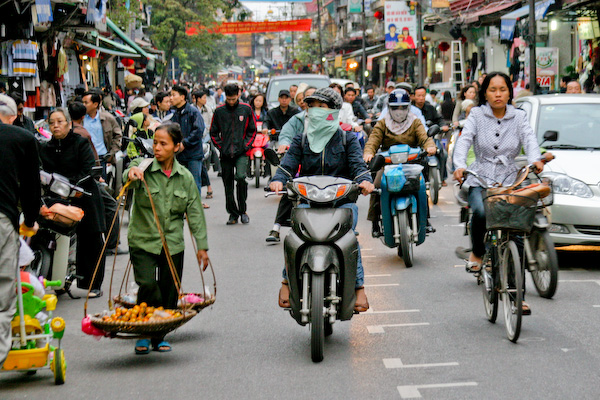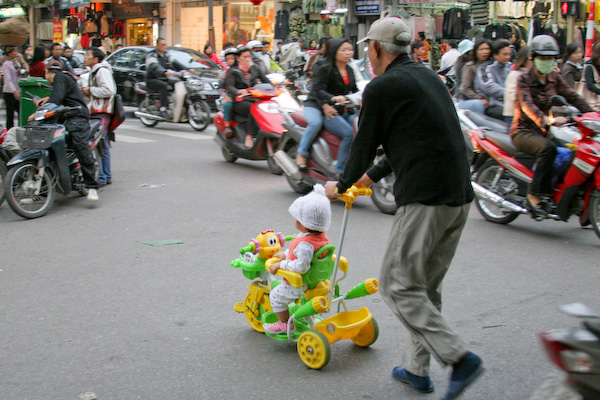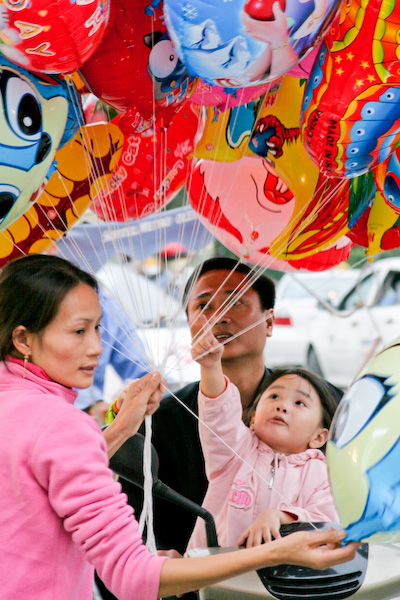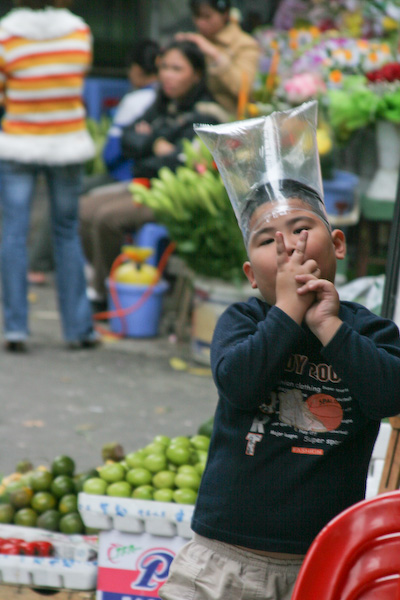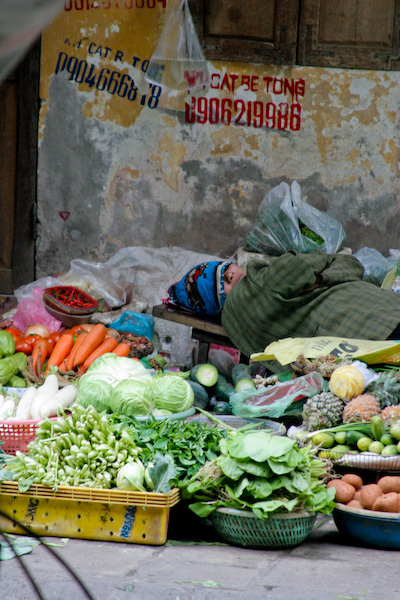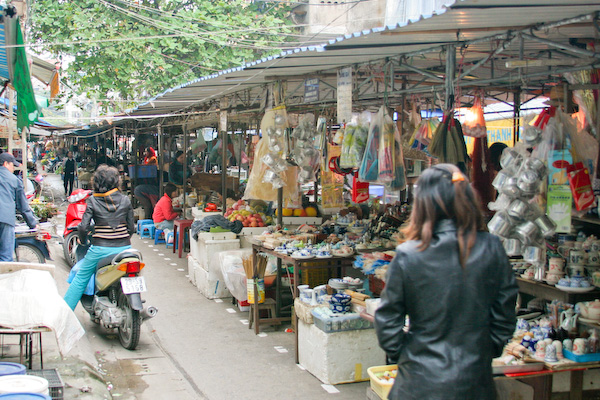 Hanoi is a pretty cool city. It's been the capital of the area for hundreds of years and it's pretty obvious why. It reminded me a bit of Bali with all of the motor bikes all over the place and tourism is certainly a main draw to the area as there were westerners everywhere! Not Americans per se…..but westerners from all over the globe. Definitely worth checking out!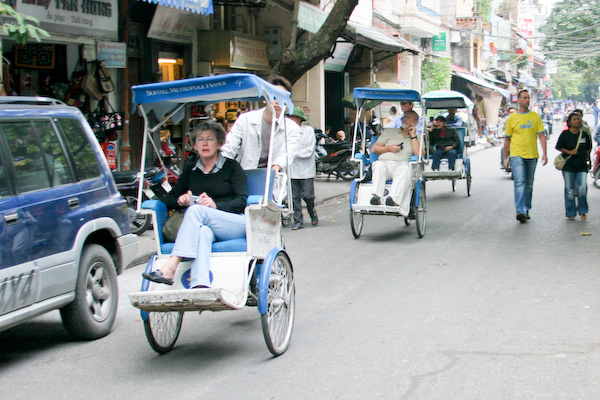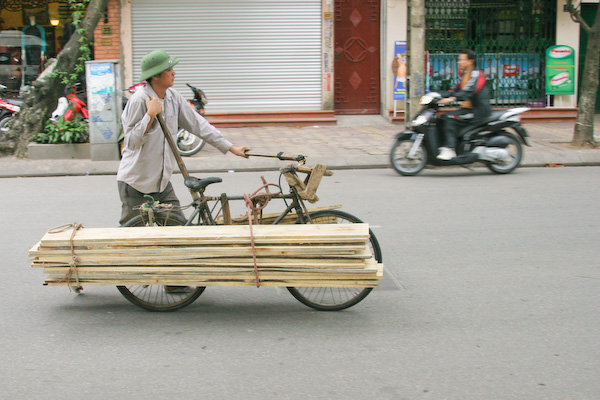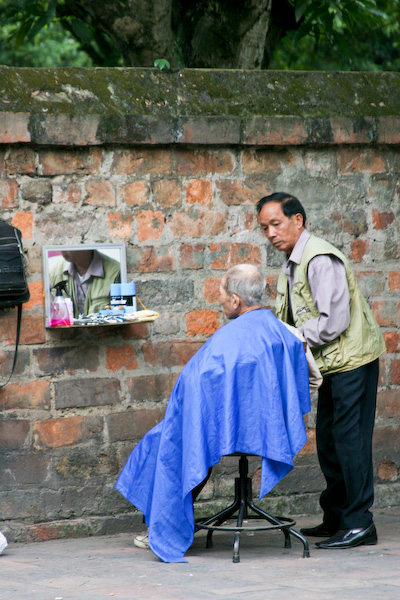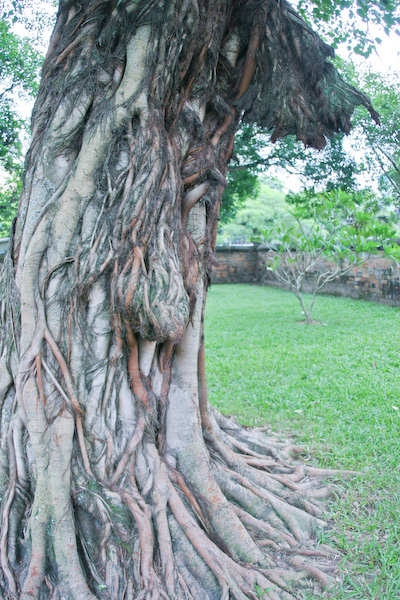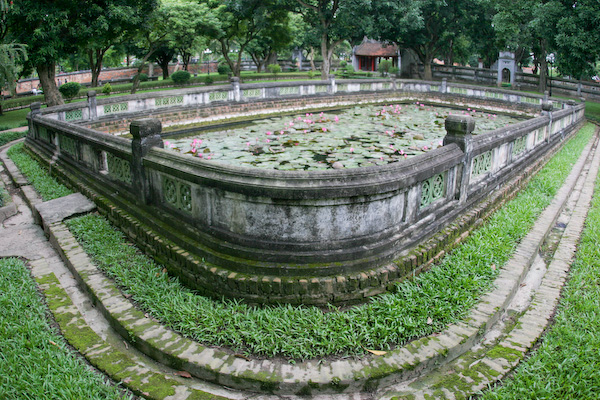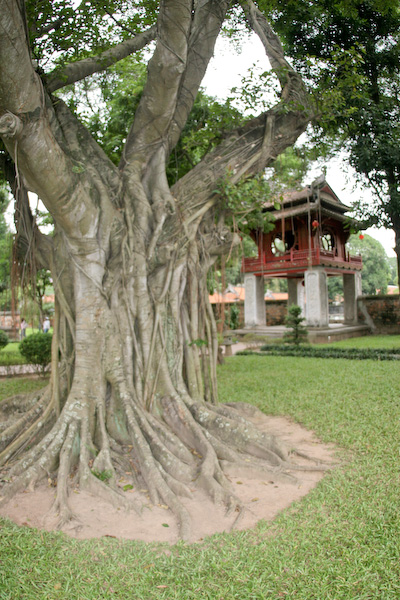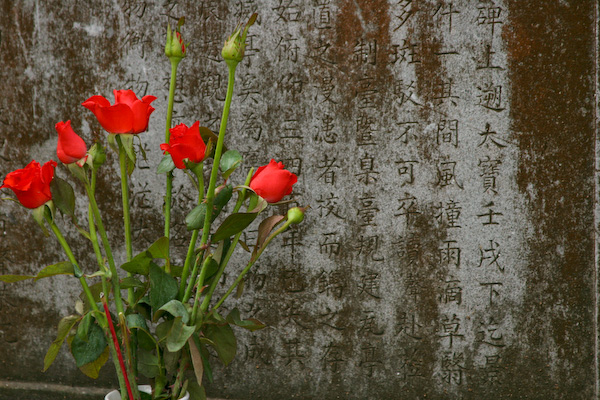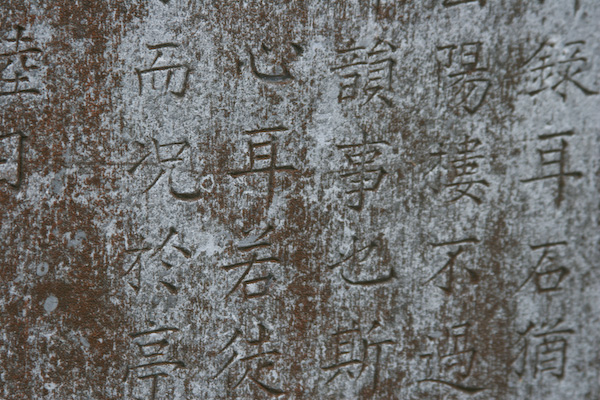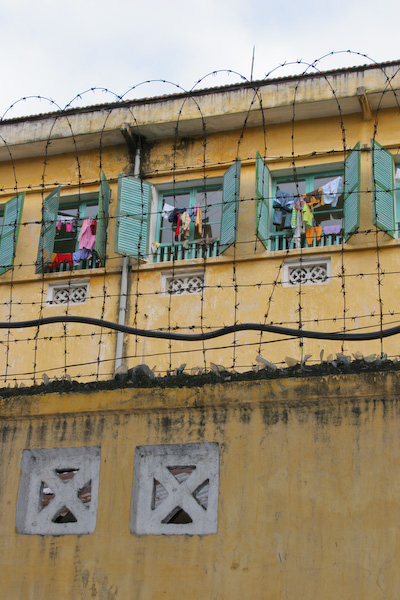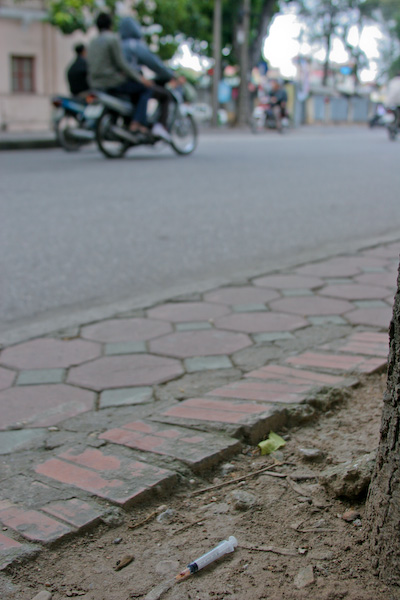 Just a thought:
You know it's a good day when……you reach for your wallet before leaving the hotel room to check and see how much you have left. You want to make sure that you have enough for the next few days. You grab a wad of bills and count out 1.8 Million Dong. The funny thing is…..you're still asking yourself….is that going to be enough?
I picked up my passport at the Laos Embassy in Hanoi and continued to stroll down the road back towards the Old Quarter……on the next block was the Cambodian Embassy….and on the next block was the Iraq Embassy…..hmmm…..I thought about stopping and putting my bag down to get my camera out and snap a shot, but then I thought, if the armed Vietnamese guard sees the American looking guy drop his bag in front of the Iraqi Embassy…..it might not be such a good idea. So I decided to pass on the photo op. Call me crazy…..but I figured I keep on walking. Not long after I came upon the Hanoi Hilton. The original Hilton that is…..There's not much left of it besides the main wall and a little area to show the tourist. The rest was knocked down to make room for a Sofitel Hotel……the actual Hilton Hotel is over by the Opera House. Pretty crazy to think that where they once held hundreds of American POW's, they now charge almost $200 a night for a high end hotel room. And $200 in Hanoi goes a long, long way….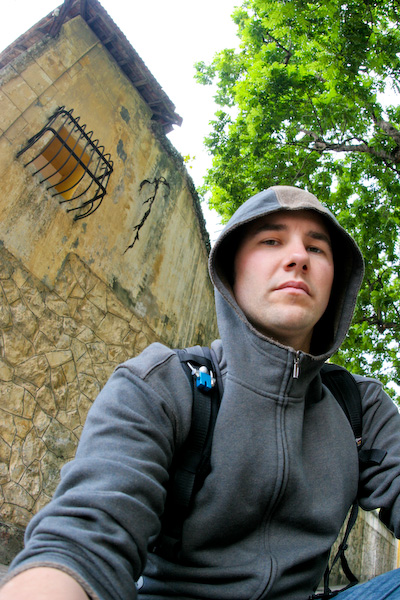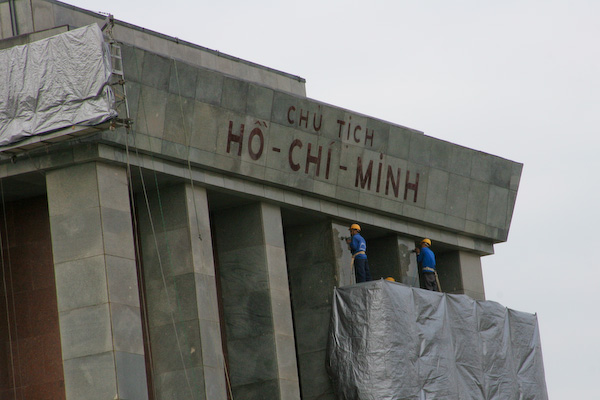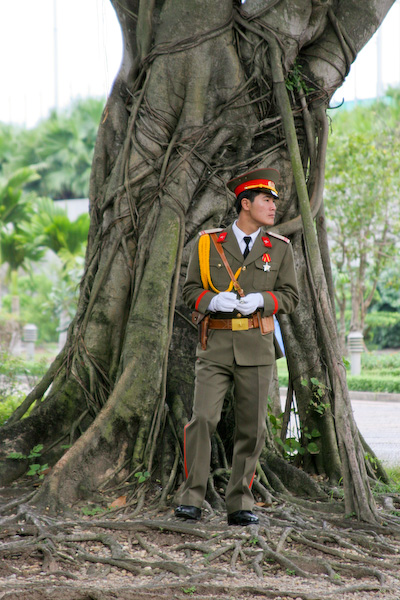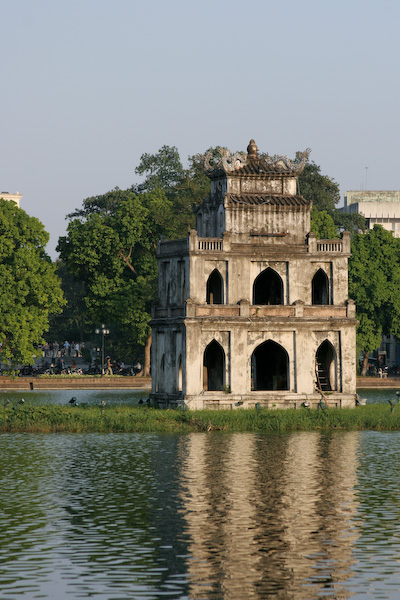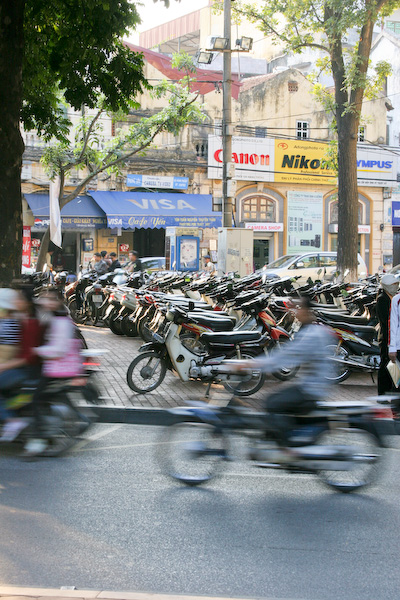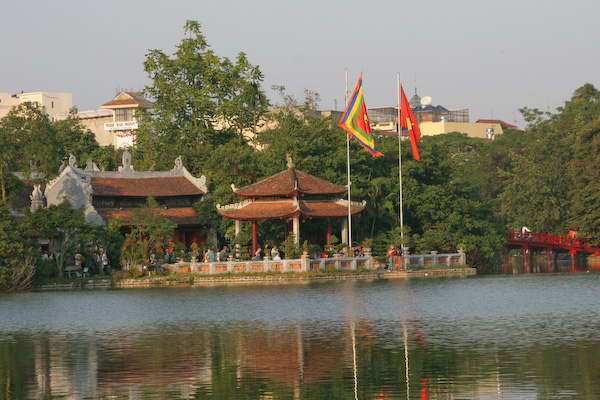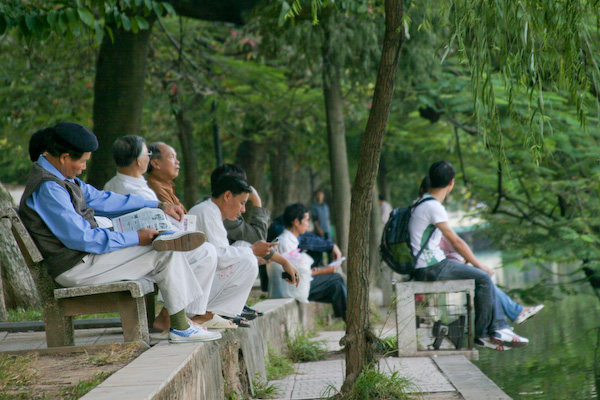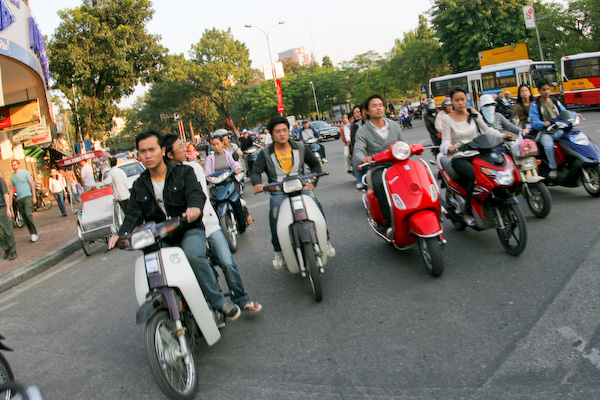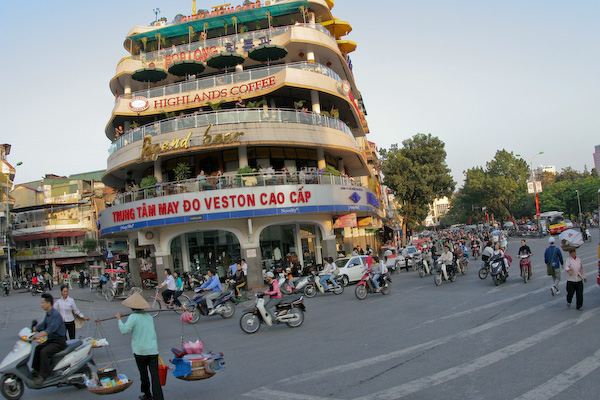 After taking a 2 hour bus from Chiang Rai, I arrived in Chiang Khong. Hoping a quick tuk tuk I caught a lift over to the Mekong River where I experienced the most lax boarder crossing I have ever experienced. You need to go out of your way to make sure you get stamped both out of Thailand and into Laos. Hiring a long boat to make the 5 minute trip across the Mekong (costing 30 Bhat, i.e.1 USD) a breeze.. Not a bad deal at all! Huay Xai, Laos awaits and is not much more than one main road. Grabbing a room at the BAP guest house I strolled over to the office for the Gibbon Experience. If you've heard of it then you'll know, if you haven't let me tell you about it. 3 days and 2 nights in the Laos jungle. All transport and food included. A few hours hike in and out. The catch is this…..you'll be staying about 150 feet up in a tree house with 7 other people and the only way to get there is via zip lines.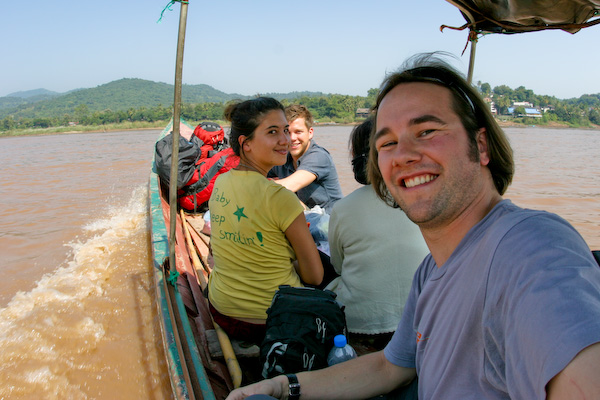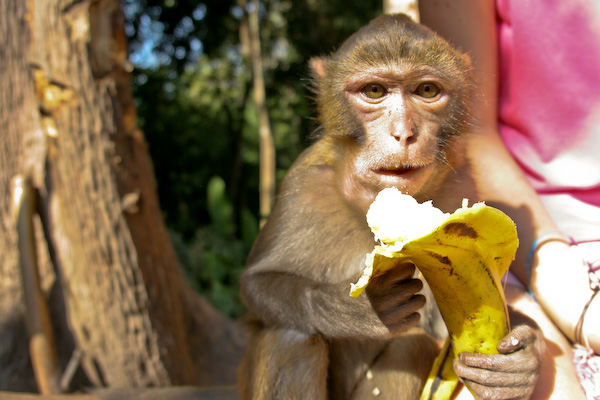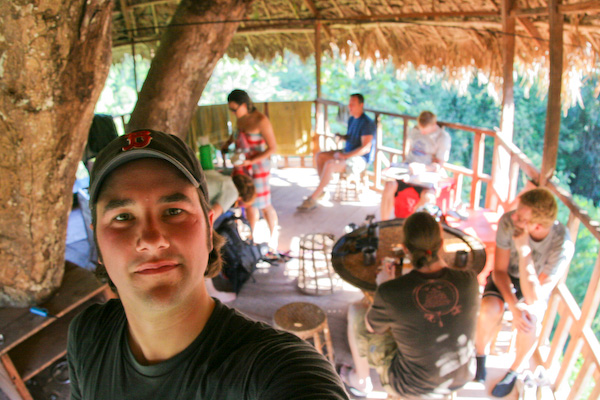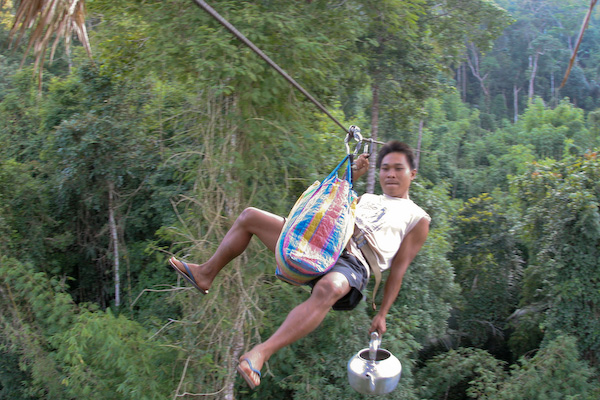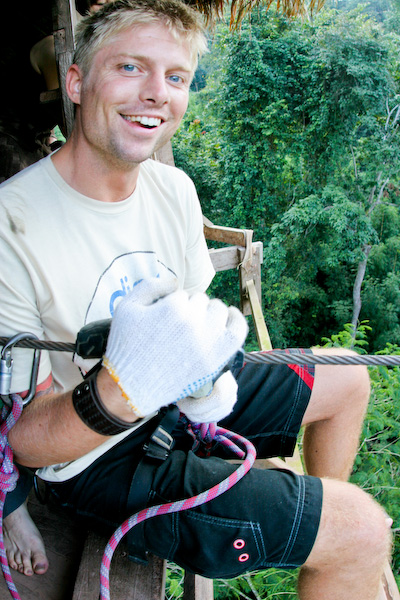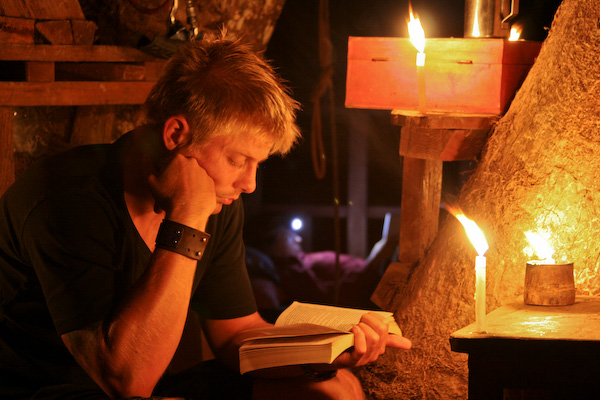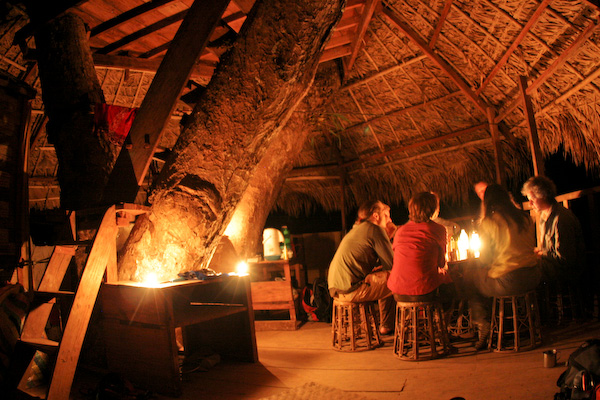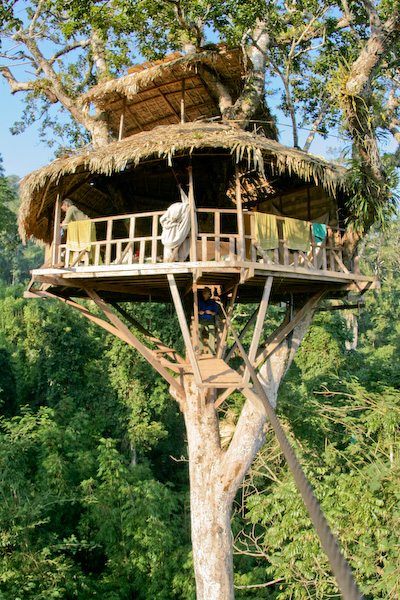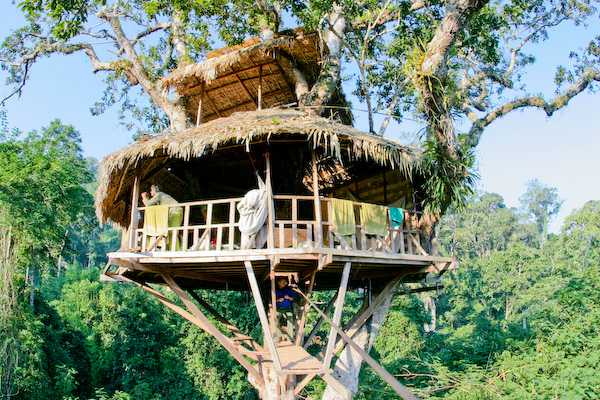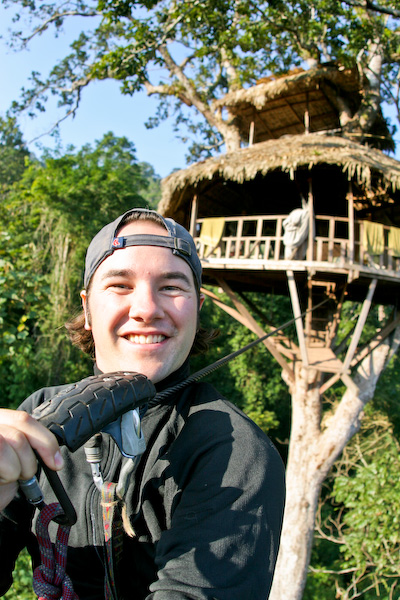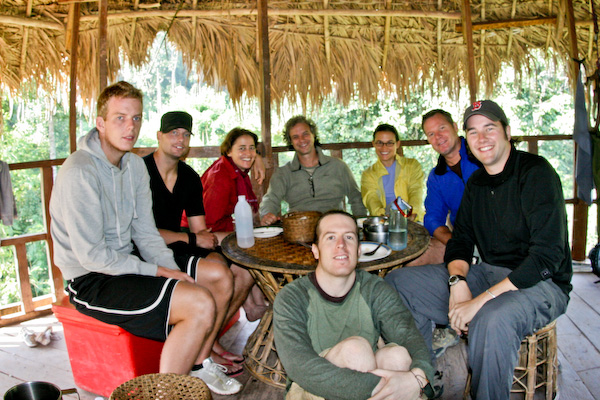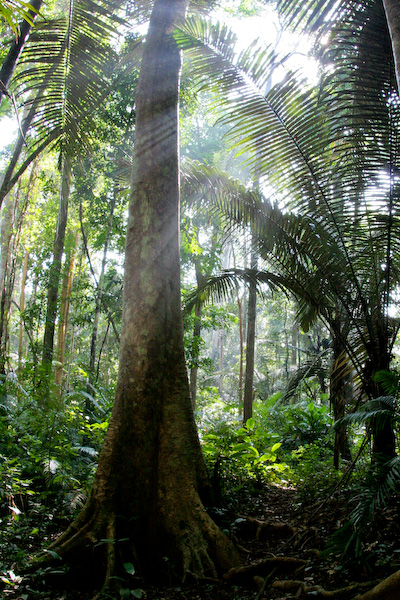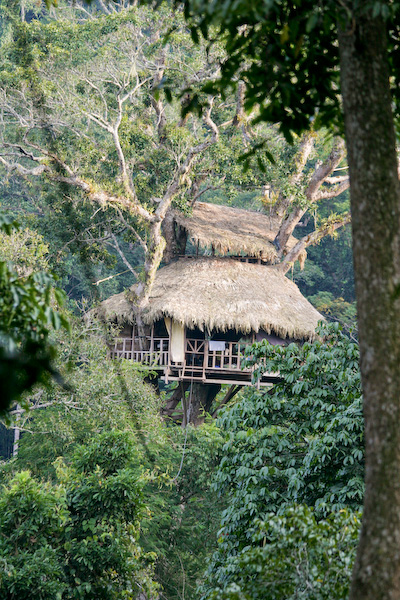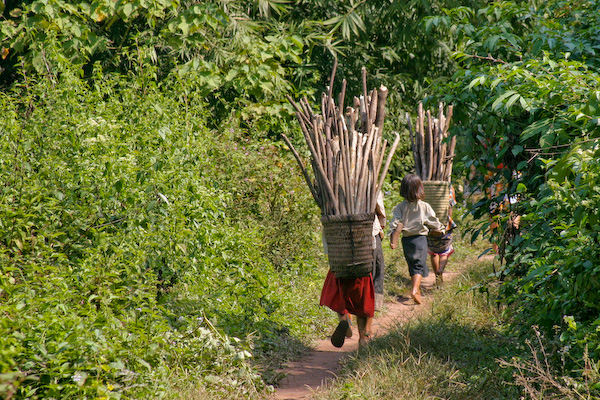 Actually, there are 5 tree houses all together (with 2 more under construction) all connected with a network of more than 20 zip lines, the longest being almost 1000 meters. It's wild…..that's the best way I can describe. One of the best suggestions I've had yet on this trip! Thanks Whit! I've got a few videos I made from borrowing a friends camera. Check em out!
This first one is of a nice long zip way above the tree tops.
The next one is actually 2 put together of me leaving the tree house and returning to the tree house.
Now I'm on my way back to Hanoi to meet up with a friend and tour the coast of Vietnam and Cambodia for the next month or so before making my way to Japan. More to come for sure……I'm just getting started!